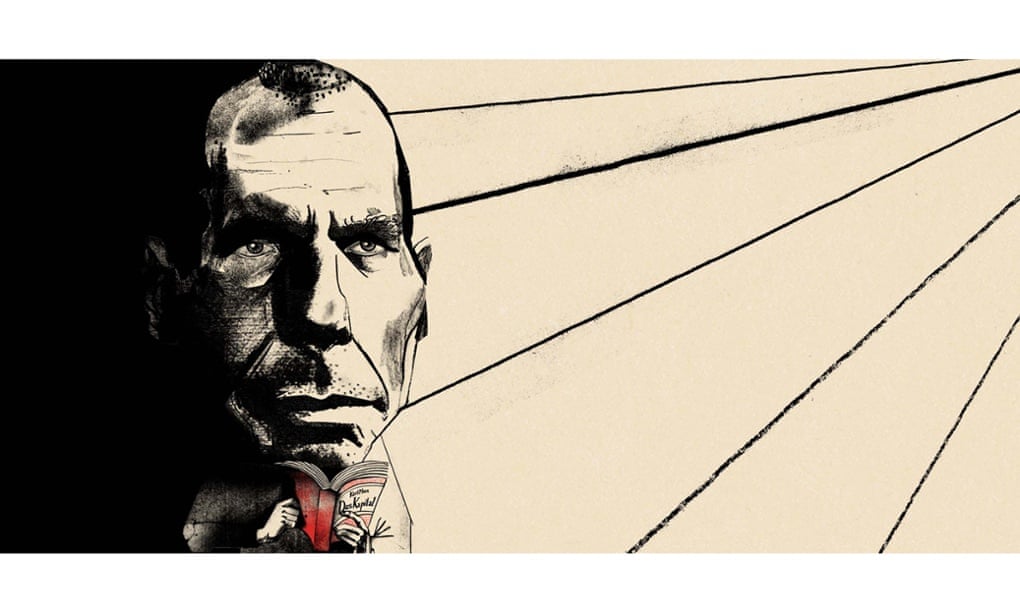 Yanis Varoufakis (Illustration by Ellie Foreman-Peck)
by
Yanis Varoufakis
, The Guardian:
http://www.theguardian.com/news/2015/feb/18/yanis-varoufakis-how-i-became-an-erratic-marxist
Before he entered politics, Yanis Varoufakis, the iconoclastic Greek finance minister at the centre of the latest eurozone standoff, wrote this searing account of European capitalism and and how the left can learn from Marx's mistakes.
In 2008, capitalism had its second global spasm. The financial crisis set off a chain reaction that pushed
Europe
into a downward spiral that continues to this day.
Europe's present situation is not merely a threat for workers, for the dispossessed, for the bankers, for social classes or, indeed, nations. No, Europe's current posture poses a threat to civilisation as we know it.
If my prognosis is correct, and we are not facing just another cyclical slump soon to be overcome, the question that arises for radicals is this: should we welcome this crisis of European capitalism as an opportunity to replace it with a better system? Or should we be so worried about it as to embark upon a campaign for stabilising European capitalism?
As the whole world now knows, Papandreou's party not only failed to stem xenophobia but, in the end, presided over the most virulent neoliberal macroeconomic policies that spearheaded the eurozone's so-called bailouts thus, unwittingly, causing the return of Nazis to the streets of Athens.
Given all this, you may be puzzled to hear me call myself a Marxist. But, in truth, Karl Marx was responsible for framing my perspective of the world we live in, from my childhood to this day. This is not something that I often volunteer to talk about in "polite society" because the very mention of the M-word switches audiences off. But I never deny it either.
After a few years of addressing audiences with whom I do not share an ideology, a need has crept up on me to talk about Marx's imprint on my thinking. To explain why, while an unapologetic Marxist, I think it is important to resist him passionately in a variety of ways. To be, in other words, erratic in one's Marxism.
If my whole academic career largely ignored Marx, and my current policy recommendations are impossible to describe as Marxist, why bring up my Marxism now? The answer is simple: Even my non-Marxist economics was guided by a mindset influenced by Marx.
A radical social theorist can challenge the economic mainstream in two different ways, I always thought. One way is by means of immanent criticism. To accept the mainstream's axioms and then expose its internal contradictions. To say: "I shall not contest your assumptions but here is why your own conclusions do not logically flow on from them."
This was, indeed, Marx's method of undermining British political economics. He accepted every axiom by Adam Smith and David Ricardo in order to demonstrate that, in the context of their assumptions, capitalism was a contradictory system. The second avenue that a radical theorist can pursue is, of course, the construction of alternative theories to those of the establishment, hoping that they will be taken seriously.
My view on this dilemma has always been that the powers that be are never perturbed by theories that embark from assumptions different to their own. The only thing that can destabilise and genuinely challenge mainstream, neoclassical economists is the demonstration of the internal inconsistency of their own models.
For a start, a society of dehumanised automata would resemble a mechanical watch full of cogs and springs, each with its own unique function, together producing a "good": timekeeping. Yet if that society contained nothing but other automata, timekeeping would not be a "good". It would certainly be an "output" but why a "good"? Without real humans to experience the clock's function, there can be no such thing as "good" or "bad".
If capital ever succeeds in quantifying, and subsequently fully commodifying, labour, as it is constantly trying to, it will also squeeze that indeterminate, recalcitrant human freedom from within labour that allows for the generation of value.
Both of them, in addition to their other errors (and, indeed, crimes) failed, to their detriment, to follow Marx's lead in a crucial regard: instead of embracing liberty and rationality as their rallying cries and organising concepts, they opted for equality and justice, bequeathing the concept of freedom to the neoliberals.
Marx was adamant: The problem with capitalism is not that it is unfair but that it is irrational, as it habitually condemns whole generations to deprivation and unemployment and even turns capitalists into angst-ridden automata, living in permanent fear that unless they commodify their fellow humans fully so as to serve capital accumulation more efficiently, they will cease to be capitalists.
So, if capitalism appears unjust this is because it enslaves everyone; it wastes human and natural resources; the same production line that pumps out remarkable gizmos and untold wealth, also produces deep unhappiness and crises.
Having failed to couch a critique of capitalism in terms of freedom and rationality, as Marx thought essential, social democracy and the left in general allowed the neoliberals to usurp the mantle of freedom and to win a spectacular triumph in the contest of ideologies.